Are you earning PJ*Rewards?
It's easy to start earning

...and we keep track of everything.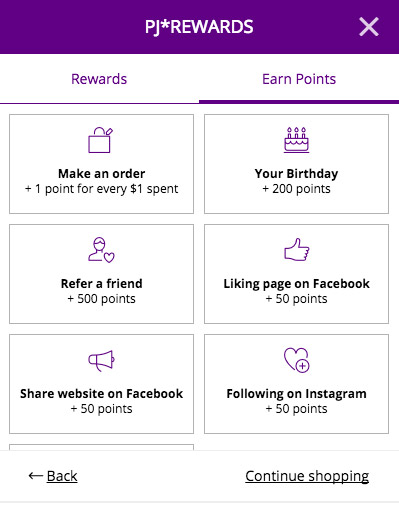 Getting Started...
You'll see a black "Rewards Program" tab at the bottom right of our page. Click and fill out the details to create a store account. Voila! 200 points for you!
Here are some other ways to earn (you'll see them once you've registered):
Place an order = 1 point for every $1 spent
Refer a friend = 500 points for you and your friend gets a 10% off code (awarded after their first purchase)
It's your Birthday! Get 200 points. Not better than cake, but still pretty cool.
Share Punky Jane on Facebook = 50 points
Like us on Facebook = 50 points
Follow us on Instagram = 50 points
Keep an eye out for opportunities to earn bonus points as well.
Okay, now you're asking, "How do I spend my points?"
Easy! We've got different rewards for different point totals. You can spend them quickly, or save them up for an even bigger reward. Simply redeem your points and you'll receive a unique code for your discount.

For example, with 500 points, you'll receive $5 off. At 2500 points, you'll get a $25 discount. And we'll be adding more rewards in the future.
And you don't have to keep track of anything. We've got you covered. When you want to check your balance or redeem points, simply click that tab again. Be sure your logged into our site.
---> Mobile Users: The program will work just fine on a mobile device, but you must be viewing in 'standard mode' by clicking that option at the bottom of the page.


Questions? Contact us at Rewards@PunkyJane.com
#EarnPJRewards #PJRewards #LoyaltyProgram