Hey Punky! What's the standard chain length?
We are often asked, "What's the standard chain length?" The reality is, there's no easy way to answer that question because there's no such thing as a 'standard' person! So much depends on body style and personal preference, it's not an exact science.
In addition to our Chain Length Guide, here are a few ways to make sure you get the perfect length:
Measure another chain you love
Use yarn or string to decide where you'd like the necklace to fall
Don't forget to consider the type of neckline you most often wear. A V-neck might call for a different length chain than a crew.
Can't decide? Order the length you think you'll wear the most. If you end up wanting another length, contact us. You can always order just a chain.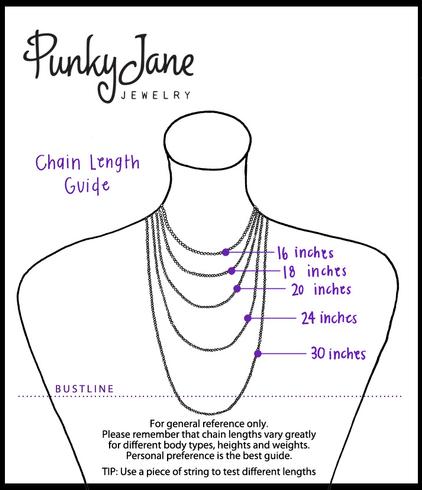 You can find this diagram, as well as many other guides in our Planning Tools Section.
We carry our sterling silver 1.5mm ball chains in 16" 18" 20" and 24". Our 2.4mm sterling cable chains can be made in any length. We offer a several lengths for the cable chains in the pull down menu when you order, but if you'd like a length in between, just let us know.