You don't have to be a GEEK to celebrate Pi Day...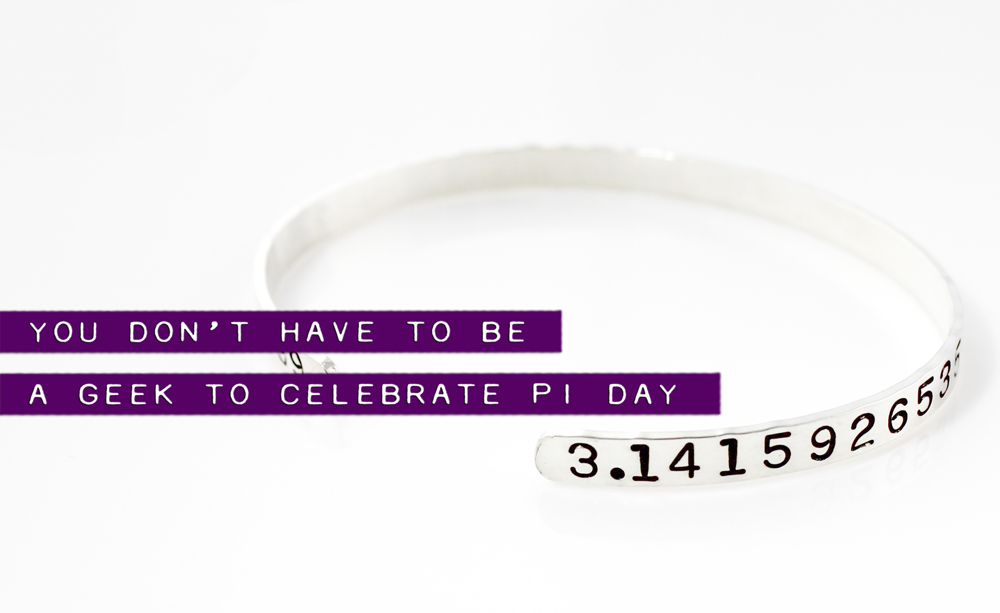 It might be pretty obvious that the Punky Jane crew has a geeky side. We admit to getting pretty excited about things like Pi Day, which is celebrated every year on March 14, or 3.14.
While no year will be as numerically epic as 2015's Pi Day (3.14.15), we will still get a little giddy around here this year.
Not only is it Pi Day, but it's the birthday of Albert Einstein and Billy Crystal. You can read all about Pi Day and get some inspiration for different kinds of Pie to serve at your own Pi Day Party.
To help celebrate, we're having a sale on our entire Geekery Collection! Whether it's our popular Pi Cuff Bracelet or one of our fun Write On Wipe Off designs, you'll be able to celebrate in true geeky style.
Use the code 'PiDay2017' (no quotes) to save 20% on your order of anything in our Geekery Collection now until March 14, 2017.
Check out one million digits of Pi. Here are 750 to get you started:
3.14159265358979323846264338327950288419716939937510582097494459230781640628620899862803485
3421170679821480865132823066470938446095505822317253594081284811174502841027019385211055596
4462294895493038196442881097566593344612847564823378678316527120190914564856692346034861045
4326648213393607260249141273724587006606315588174881520920962829254091715364367892590360011
3305305488204665213841469519415116094330572703657595919530921861173819326117931051185480744
6237996274956735188575272489122793818301194912983367336244065664308602139494639522473719070
2179860943702770539217176293176752384674818467669405132000568127145263560827785771342757789
6091736371787214684409012249534301465495853710507922796892589235420199561121290219608640344
1815981362977477130996
Even if you don't consider yourself a geek, feel free to have a slice of Pi Pie!