NOW AVAILABLE...jewelry created from actual handwriting or artwork!
We are so excited to announce that we can now create a beautiful keepsake necklace from handwriting or a line drawing. Whether it's a special message to a bride from her father, a memorial to someone you've lost, or a little squiggle from your toddler, we work with your artwork to create this truly one-of-a-kind necklace.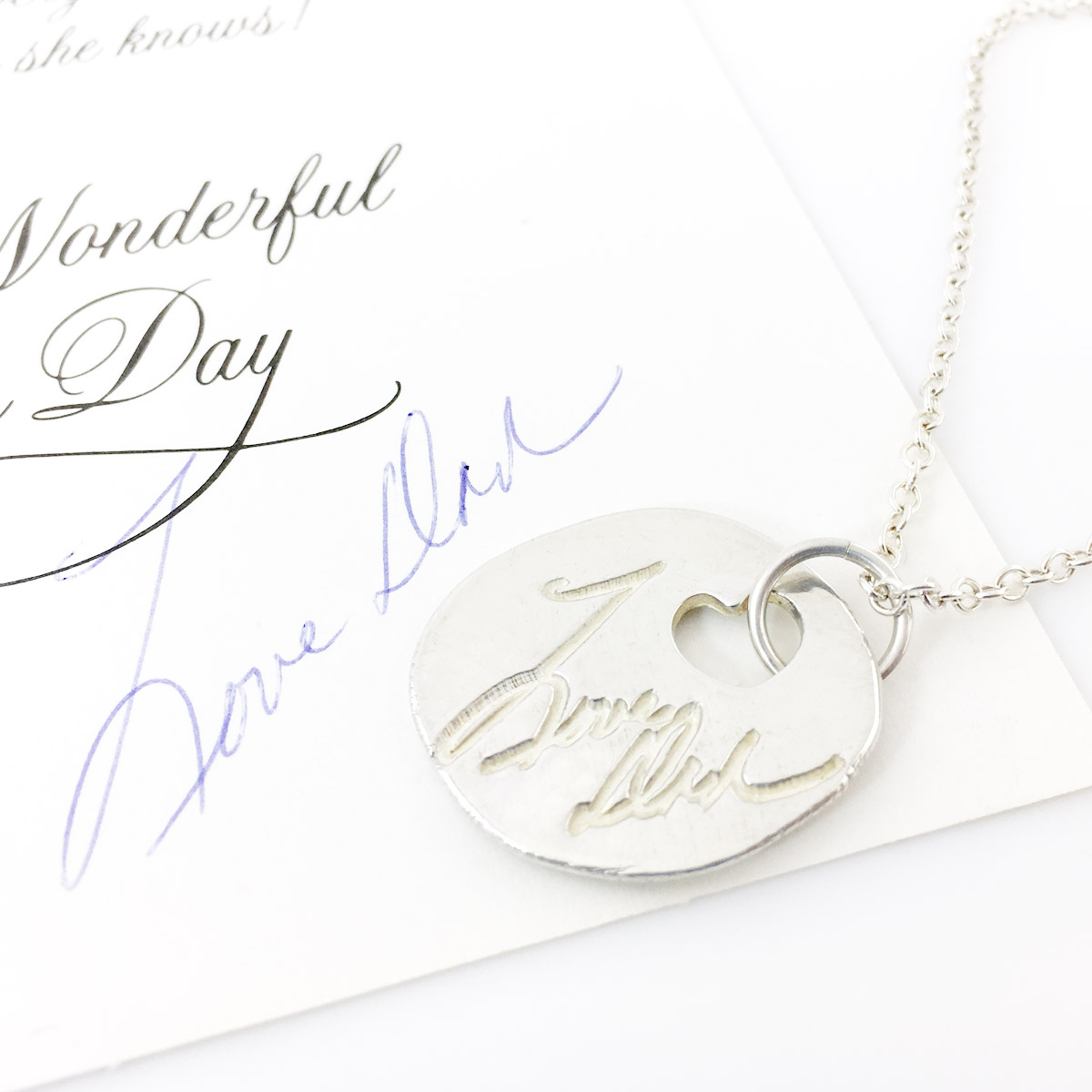 A sample of an organic-shaped necklace with a heart-shaped hole.
This is made from a Valentine's Day card I received from my dad a long time ago.
He passed away 20 years ago and I'll never forget his writing...
We used to joke he should have been a doctor!
We know that the signature or note you'd like to use may not be perfect. If you have any concerns at all, send us your artwork before you order, and we'll confirm whether it will work or not.
We've put together some basic guidelines for sending in your artwork:
The best art for this process is dark ink on a light, plain background, but we may be able to work with what you have. We know that greeting cards and notes aren't always perfect! If you're concerned, send us a sample and we'll figure out what to do.
If for some reason we can't make your artwork fit in the shape you'd like, we'll contact you to figure out the best option.
Remember that we may digitally edit the placement of the handwriting to fit the design of the piece.
You can also send a clear, focused photo taken with your phone, as long as it doesn't have any discoloration or glare, and is high resolution. Again, send it as large as you can. Don't convert the photo to black and white. The color information included may help us clean up your image.

The best results will come from a minimum 600 dpi, clean scan of your artwork saved as a jpg. Send it as high a resolution as you can.
We offer 4 basic shapes for the charm, as well as 4 different shaped holes for the chain. The sample in the photo is an organic shape (to fit the edited handwriting) with a heart-shaped hole.
Each keepsake is handmade to order and does take a little extra time. Please allow 3-4 weeks for normal turnaround. If you have a rush order, contact us and we'll do everything we can to accommodate you.
And, multiple impressions can be made from the custom stamp we make, so we can offer you a discount on orders using the same art.
We look forward to creating these truly personalized pieces for you!